The Restaurant

From the entrance you can already see the interior climate, the careful details that gradually emerge and soft ornamentation in any of its corners or Terrace, ensure unforgettable evenings.
Albert & Simons is awarded the Les Maîtres Conceils Diploma in Gastronomie Française, as well as the recognition by the Gastronomic Academy of Spain and the Brotherhood of the Good Table, as Best Restaurant in Spain-1990.


Already as the best gastronomic choice in the Campsa Guide, in 2004, Albert became a member of the Andalusian Gastronomic Academy and Chef Club of Spain. Later on, he became part of Eurotoques and the Chaine des Rotisseure, not forgetting his great work within the Association of Chefs of Cuisine of Marbella (Ajecomar) forming part of his Board of Directors.


The Creative Neoclassical Kitchen of this great Author is installed in the mythical Restaurant 'Le Soufflé' of Estepona and from where it shone even more, in 1987, with one of the first Michelin Stars awarded in Andalusia. A Prawn Salad with Raspberry Vinaigrette, Fresh Duck Liver Marinated in Virgin Olive Oil and of course, Soufflé Grand Marnier, were the dishes that provoked to include this Restaurant in the gastronomic firmament.


That room began to be directed by Simon who has not separated again from his brother and in 2007 is recognized, with Outstanding Merit in the WSET in Wines and Spirits, in addition to being a member of the Association of Sommeliers of Spain, Andalusia-Costa del Sol .

Companies & Groups

We organize group dinners and company dinners with special menus adapted to small and large groups. Surely we are going to give you an unforgettable experience.
You can inquire and make your reservation on 952783714

"The Virtue of the Good Gourmet is Patience"
(Albert Benisty)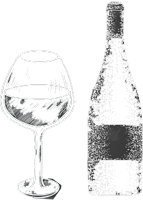 You can make reservation starting from 1st of June
DIRECTIONS
Urbanización Nueva Alcántara
Edificio Mirador, Bloque 4-B
San Pedro-Marbella, 29670
(Málaga-España)
Teléfono: +(34) 952 78 37 14
OPENING HOURS
We are closed for holiday between 15 February – 28 February
Monday to Friday: 19:30-23:00
Saturday 19:30 -23:30
Sunday: Closed